The first router you'll ever never configure.
What is Zero Touch?
Power on and plug in, that's it! The Zero-Touch system will intelligently auto-configure the customer router from start to finish.  WAN, LAN, and wireless all swiftly configured and tailored from customer records. All easily administered from your custom cloud portal.  Perfect.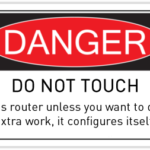 The IMS platform already known for its powerful combination of simplicity and sophistication just upped its game. Gone are the days of tedious work to install, activate, and support client routers. Zero-Touch router deployment is another exciting addition to the arsenal of features included in the Aditum Internet Management Service platform.
Power on and plug in.  We say it again, that's it!  By the time you are dressing cables, the router will have already been auto-configured and ready to go with an email sent out to the customer detailing access and administration.
Enjoy faster deployments, streamlined support, and increased profitability with Zero-Touch and Aditum IMS.
Automatic Tenant Notifications
Upon successful completion of the device installation (either new installation or a factory reset) the system automatically emails the tenant with all their necessary WiFi information to get their devices online, zero configuration required!  Should the tenant want to change their settings, change the SSID or WPA2 key, or advanced features like turn on Port Forwarding, the login details for the router are also included.  Like all other system emails, these templates can easily be modified by the partner.
Easy Support
Perform factory reset on router anytime to restore to erase any tenant customization's, or when a new tenant moves in.   
WiFi Configuration Reporting
What's the biggest pain in support? WiFi client device problems.  If a tenant calls in unable to connect to their WiFi, but unable to remember their WiFi settings, all their WiFi settings are accessible from within the portal for easy reference, so instead of asking if they remember what their network name is, it's right in front of you.
Bulk Device Management
The Zero Touch router platform is built for dealing with bulk device management in mind. If you are deploying a large number of routers at once, you can bulk register them by scanning the barcode on the box instead of manually entering the serial number.  Assigning to a tenant can be done at the same time, or once registered, you can select the serial number from a drop down of available devices when later setting up a tenant.
Is this the future of device management?
Not even close, Look for that this summer!
Share: